Hi <insert name here>~ My name is Tari!!
I love absolutely Free! and one day I thought "Why not spread my love of this absolutely, brilliant masterpiece to the world?" So now I'm here ❣◕ ‿ ◕❣
I usually edit a lot of the media, profiles, and Japanese quotes and lyrics on the Free Wiki, but I also like to help out in other places too ❤︎
Now that season 3 is over, let's all wallow in the corner of our bedrooms, curled up into balls, crying while waiting for 2020 to slowly arrive (´;ω;`)
BESIDES THAT THO, KYOANI ARE STILL BLESSING US LOVELIES WITH EARGASMIC SONGS BY OUR WATER BOYS AND THE UPCOMING RECAP FILM IN 2019. THEY KNOW HOW TO PROVIDE US WITH GOOOOOOOD CONTENT WHILE THEY MAKE THE NEW PRODUCTION \(T∇T)/
º*・°*:.。..。.:*・'(*゚▽゚*)'・*:.。..。.:*°・*º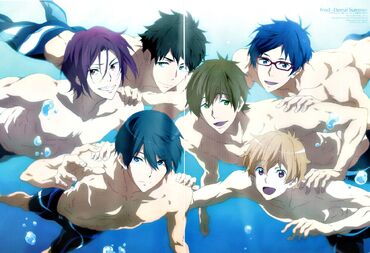 Favourite Season: Free!-Eternal Summer-
—When the Freels got reals and THE OST HURT MY LIL HEART
Favourite Episode: The Eternal Summer of Beginnings!
—Because it was such a beautiful way to end the powerful, emotional storm of a season it was (still crying to dis' day btws)
Favourite Movie: High☆Speed!-Free! Starting Days-
—It's a masterpiece, nuff said
Favourite Theme Song: Aching Horns
—OLDCODEX has snatched my wig once again (THE PLACE WHERE WE REALLY SHINE HGNN)
Favourite Characters:
• Makoto —SOFTEST, SWEETEST, MUM BOI IN THE WORLD & THE EPITOME OF HUSBAND MATERIAL
• Momo —MY CLUELESS, STUPID BUT BEAUTIFUL OTTER CHILD THAT DESERVES THE WORLD'S LOVE
• Ikuya —EVERYTHING THAT I AM EXCEPT ATHELETIC AND FRAEKING GORGEOUS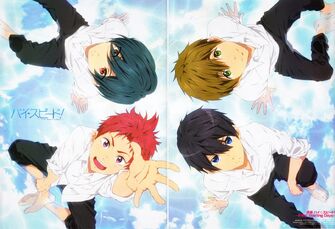 Favourite Ships: MakoHaru, ReiGisa, SouRin, AsaKisu, HiyoIku, NatsuNao, MomoAii <3
But tbh, I'm open to anything, plutonic or otherwise :D (No ship wars for me, no thank you~!)
Favourite Character Song:
Ryuusen no Yukue or Ashita e no Last Race
—I cAN't ChOoSE JuST oNe OKaY? bUT Y'aLl kNOw ThAT thEy'Re SINgiNg AbOuT THe mOSt IMpoRtAnT PpL To tHem?? I MeAN, IT's sOoOoooO ObVIouS
(´;ω;`)


Favourite Duet Song: Always Here —MY MAKOHARU FEELS (ITSUMOOO KOKO DE MOTTO JIYUU NA~)
Favourite Quote: From Makoto to Haru
✧ Current Thoughts & Freels
Let's hope the upcoming movie involves ALL of the characters bc I want to see them alllllll
I'm thinking about making a piano/soft mashup of all the Free OP & ED's soon because I just LOVE drowning myself in deep freels (Free feels) of this anime. If I ever get around to it (haha if) and finish it, I'll link it here :P

Haha nevermind, I'll just wait for the new songs this year and next year and complete it then (it's already 15mins long and I've only gotten up to Aching Horns D: )
Okay I understand Dive to the Future was a new season revolving around the waterboys in university, but I feel as though Nagisa, Rei, and Sousuke deserved so much more screen time and focus

They were friends that really solidified the meaning of "For the Team" for Rin and Haru, and seeing them be "background characters" disappointed me :(

Hell, Momo and Ai, who were also members of those teams, seemed even BARELY significant (I wanted to see captain Nitori and KYOANI WHy woUlD YoU dO MY PooR OtTEr bOY likE ThAT? I wANTed To SeE hIS StUPId ADoRAblE FAce mOReEeEE)
Can somebody join Kisumi's Basketball club already? The poor pink child just wants to find a basketball buddy :( I mean I would SOOO join if I could, but i can't sport to save my life and unfortunately reality is cruel so I can't bounce through my screen to see my Iwatobi boys in the 3rd dimension (UgLy CriES)

KYOANI I BEG YOU PLEASE MAKE A SPINOFF FOR KISUMI'S BASKETBALL CLUB, PLEASE MAKE MY STRAWBERRY HAPPY
HAHAHAHA I STILL HAVEN'T FULLY LISTENED TO THE NEW CHARACTER SONGS BC I'M NOT READY BC I KNOW IMMA CRY WHEN I HEAR THEM SING ABOUT THEIR PASSIONS AND WHAT THEY LOVE.

God forbid, if I get any more songs about characters singing about one another, I might as well dig my grave now because I CAN'T HANDLE THE FREELS!! (Who am I kidding? SEASON 3 WAS HIGH-CONCENTRATED ANGST AND THE FREELS WERE REAL DEEP)

Still, I wish they made songs for Sousuke tho (and just more Sousuke content in general) because Hosoya-san (Sousuke's seiyuu) HAS THE DEEPEST BUT MOST GORGEOUS VOICE I HAVE EVER HEARD IT GIVES ME GOOSEBUMPS AND CHILLS.
Y'ALL THE NEW DUET/GROUP SONG ALBUM CAST HAS ME SQUEALING

HIYOIKU FEELS WILL DESTROY ME (+Kimura-san's voice MHMM)

ASAHI AND REI (after the long ass wait for the reunion, this makes it all worth it)

NATSUYA AND NAO *incoherent squealing*

ROMIO, SHIZURU AND AYUMU (Oh my Kami-sama they are beautiful children that deserve all of the loveesajsdbs)

MOMO, AII, MINAMI AND UOZUMI (MY SAMEZUKA BOYS, HO BOY HAVE I BEEN WAITING FOR MINAMI AND UOZUMI TO SHINE SINCE ETERNAL SUMMER!)

But the most important question again... WHAT ABOUT SOUSUKE?!( TДT)
Still shook at the fact the name 'Kaede' is coming back from the very OG Free! concept art to the next season/movie in 2020. Thought they might have scrapped the name, but I. guess. noooootttttt!!! But THIS Kaede is very different to the other Kaede, bc he was so cute:

For those who are confused, the original Kaede was meant to fill Rei's position in the early stages of production of the anime. He had a pretty similar/mix of Nagisa's and Asahi's (actually his design too) personalities and was a track and field boy who also had little experience with swimming. If you want to find out more about Kaede (and of course the others and the anime in general), I'd recommend reading the interviews below :)
✧ AND NOW, A GALLERY OF FREELS (among other things)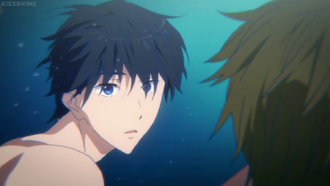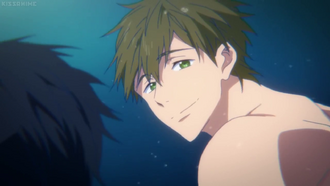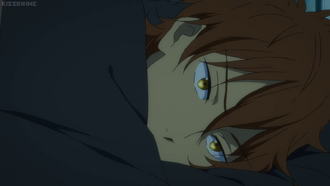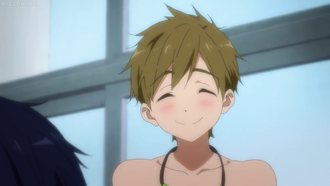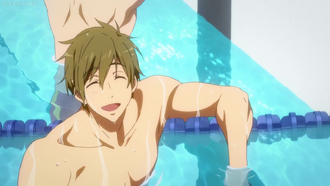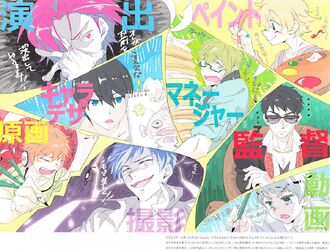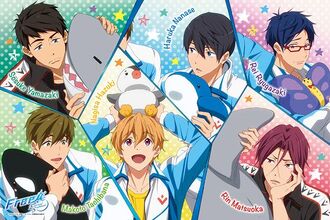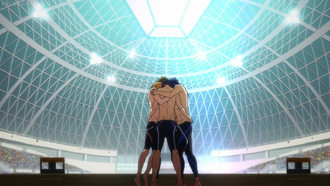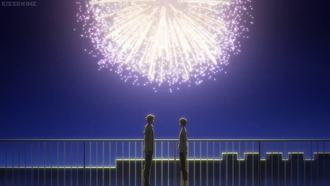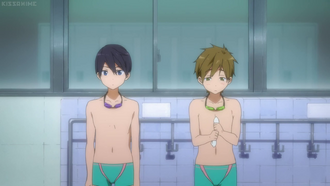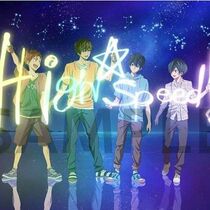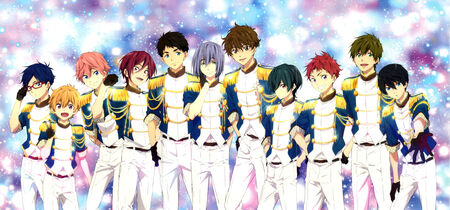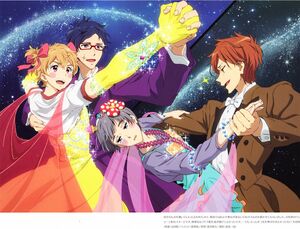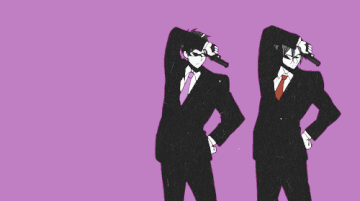 Edits of Taritsukii on Free! Wiki
Total
1,368
Article
892
Talk
0
User Profile
68
User Talk
0
Free! Wiki Page
0
File
176
Template
35
Template Talk
0
Category
67
Category Talk
0
Forum
0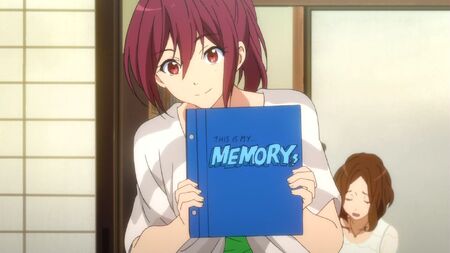 Community content is available under
CC-BY-SA
unless otherwise noted.