| | |
| --- | --- |
| | This page/article is currently a stub. You can help out the Free! Wiki by adding new information or images, correcting spelling, or doing other helpful things to improve the article. |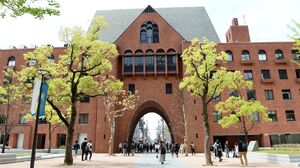 Kindai University (近畿大学 Kinki Daigaku) is a private non-sectarian and coeducational university based in Higashiosaka, Osaka, Japan with campuses in five other locations: Nara, Nara; Osakasayama, Osaka; Uchita, Wakayama; Higashihiroshima, Hiroshima; and Iizuka, Fukuoka.
Summary
The English name of the university had been Kinki University since its establishment in 1949 to refer to "the surrounding area of the capital city (Kyoto)". On May 20, 2014, the university announced that its English name would officially change to Kindai (近大; a portmanteau of the first symbols of Kinki and Daigaku), to avoid the implications of the word "kinky," as the university is planning to globalize with the establishment of a new Foreign Language school. The name change took effect on April 1, 2016.
Within the Free! series, Samezuka Academy is architecturally based on Kindai University with several features seen in the anime paying direct homage to locations found at the university in real life, such as the distinctive gate entrance seen above. As a result, many fans of the series have visited Kindai to take photos and see the structures that influenced the series.