KYOANI & DO FAN DAYS 2017
Product Information
Production
Kyoto Animation
Animation DO
Release Date
October 28 & 29, 2017

The bi-annual event known as the Kyoto Animation and DO Fan Appreciation Event (aka KYOANI & DO FAN DAYS) once again highlighted the studio's accomplishments of the previous two years. The event was titled, "This is What We Are Now!! -It's a Festival After 2 Years!-." In 2017, the event prominently featured three of the studio's top animation media: Violet Evergarden, Sound! Euphonium and Free!
The event showcased over 3,000 pieces of key animation, along with storyboards and background artwork. It further provided interactive opportunities, such as the "Studio Zone," where fans could watch chosen animators at work, engage the artists in conversation and have questions answered. While sometimes thought otherwise, the studio uses the same tools as other Japanese animation studios: key animation is drawn by hand, RETAS Studio is used for digital coloring and Adobe AfterEffects for compositing. What sets this studio apart is its unique aesthetic and attention to lifelike detail.
In another area of the venue, production materials were displayed, as well as life-sized backgrounds and character cut-outs from famous works with whom attendees could pose for photographs. The event also introduced Baja, the studio's new mascot. A short anime called Baja's Studio depicted Baja in action at screenings scheduled throughout the event with a Japanese Blu-ray edition available for purchase.
Finally, attendees were treated to a preliminary screening of the then-upcoming film, Free!-Take Your Marks-. Another mini-event titled, "Delivery! Various editions of Kyoto Animation & DO," was planned for October 29, 2017 at the Miyako Messe Exhibition Center, but was cancelled.
Gallery
Video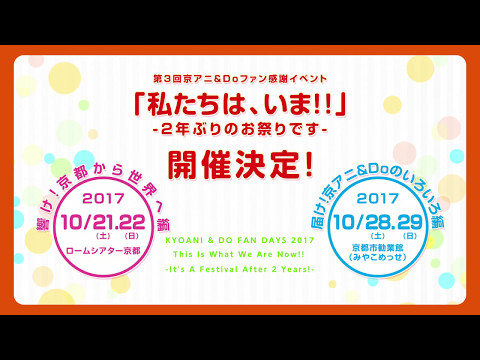 External Links