KYOANI & DO CTFK 2013
Product Information
Production
Kyoto Animation
ANIMATION DO
Release Date
November 30, 2013
Running Time
7 hours (10:00 - 17:00)

The first season of Free! was released in July 2013. The story about Haruka Nanase, a high school boy with phenomenal swimming potential, was a new concept for Kyoto Animation insofar that it centered on a group of school-aged boys instead of school-aged girls, and with equal attention paid to the unique "cute" factor that is imbued in all KyoAni projects. With Futoshi Nishiya as chief animator and character designer on board, however, the series quickly became one of the studio's most popular and enduring, both in Japan and globally.
In 2013, Kyoto Animation also held its first KYOTO ANIMATION & DO FAN APPRECIATION EVENT, although it was simply called CTFK 2013 – the initials representing four anime the studio wanted to promote at the time: Love, Chunibyo & Other Delusions!, TAMAKO Market, Free! and Kyoukai no Kanata (aka BEYOND THE BOUNDARY).
The elements of the exhibition were similar to those that succeeded this initial endeavor. Futoshi Nishiya answered questions at a live panel and signed autographs along with other animators and directors. One of those directors was Masahiro Yokotani, who went on to write the screenplays for High☆Speed!-Free! Starting Days- and the Free!-related films that followed.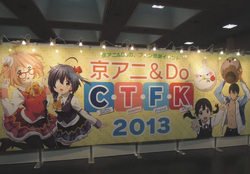 External Links