High☆Speed!-Free! Starting Days-
Product Information
Director
Yasuhiro Takemoto
Character Designer
Futoshi Nishiya
Production
Kyoto Animation
Animation Do
Release Date
December 5th, 2015
Running Time
110 minutes
High☆Speed!-Free! Starting Days- (ハイ☆スピード!-Free! Starting Days- Hai☆Supīdo!-Free! Starting Days-) is a 2015 animated film produced by Kyoto Animation and Animation Do. The movie is based on the High☆Speed! novels by Kouji Ohji and serves as a prequel to the original Free! series which aired in the summer of 2013. The movie debuted in Japanese theaters on December 5, 2015 and on Japanese DVDs on July 20, 2016.
Synopsis
Haruka Nanase feels something special when he touches water. The medley relay was the last competition he was able to participate in during elementary school. Haruka, along with Makoto Tachibana, Nagisa Hazuki, and Rin Matsuoka, saw something they'd never seen before. In spring, with the cherry blossoms in full bloom. Haruka moves on to Iwatobi Junior High School  with Makoto and starts a new life. Both enter the swim team, and plan to compete in the medley relay together with Asahi Shiina and Ikuya Kirishima. All four students have different objectives and ways of thinking, and different baggage they're carrying, and so their practice for the relay hasn't been going well. What is required to make a team? What does Haruka, whose heart is trapped in the medley relay of the past, think during this new event?[1]
Plot
Main article: High☆Speed!-Free! Starting Days-/Plot
Production Staff
Studio: Kyoto Animation, Animation DO
Director: Yasuhiro Takemoto
Script, Series Composition: Masahiro Yokotani
Character Design: Futoshi Nishiya
Art Director: Joji Unoguchi
Director of Photography: Kazuya Takao
Music: Tatsuya Kato
Sound Director: Yota Tsuruoka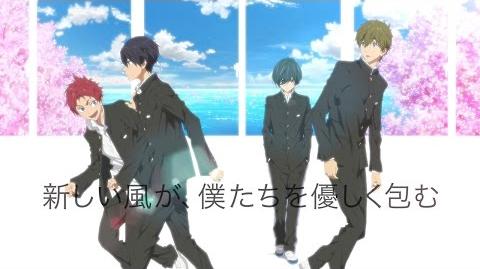 References
Community content is available under
CC-BY-SA
unless otherwise noted.