Welcome
Welcome to Free! Wiki.


We currently have 28,129 edits to 684 articles and 5,310 images on this wiki.


Navigation

New Pages • Categories • Help
News
Q3.2020: Haruka's continued journey in the world of professional swimming to be covered in a feature film.


07.05.2019: A new compilation film entitled Road to 2020 will debut in Japanese theaters.
07.11.2018: The first episode of Free!-Dive to the Future- is officially released in Japan. 06.13.018: A key visual for Free!-Dive to the Future- is released on Twitter alongside an airing date and ending theme. The visual confirms the return of previous characters as well as teasing several new side characters.


07.05.2018: Free!-Dive to the Future-'s title, opening theme, main characters, & air date are announced via a trailer on the official Iwatobi SC Twitter!



About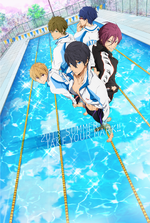 Free! (フリー! Furī!) is a Japanese anime television series produced by Kyoto Animation and Animation Do. Its premise is based on the novel High☆Speed! written by Kōji Ōji.

Haruka, Rin, Makoto, and Nagisa used to be members of the same swimming club in elementary school. They win a tournament just before graduation, parting ways thereafter. Nagisa reunites with Makoto and Haruka in high school and Rin, thought to be studying in Australia, also reappears, but attending a different high school.

After an informal swim race between Haruka and Rin, Nagisa suggests forming the "Iwatobi High School Swimming Club" with Makoto and Haruka, drafting in Rei as their fourth member with Gou Matsuoka as their manager and Miho Amakata as their advisor. Rin joins the Samezuka Academy swim club and the two schools' teams compete against one another until both reach national level.

Season 1 (July 2013) focuses on the formation of the Iwatobi Club, Rin's estrangement from his former friends and subsequent reunion. Season 2, Free!-Eternal Summer-, focuses on developing a larger cast of characters, following their ups and downs in sport, friendship and future plans. Season 3, Free!-Dive to the Future-, debuts in July 2018 and focuses on the lives of the characters in their first year of university.

High☆Speed!-Free! Starting Days- (December 2015) highlights Haruka Nanase's first year of middle school and his friendships with the swim team there which included Makoto Tachibana, Asahi Shiina and Ikuya Kirishima.

A film trilogy was released in 2017. The first film titled Free! -Timeless Medley- the Bond (April 2017) features the bond between Makoto and Haruka through a compilation of scenes taken from existing footage with some newly added animation. The second film titled Free! -Timeless Medley- the Promise (July 2017) features the friendship between Rin and Sosuke in a similar style as Bond. The third film in the trilogy titled Free!-Take Your Marks- (October 2017) features four new vignettes focusing on both the major and minor characters of the franchise.
Characters
Asahi Shiina

Asahi Shiina (椎名 旭 Shīna Asahi) is one of the main characters in the movie High☆Speed!-Free! Starting Days- and Free!'s third season, Free!-Dive to the Future-.
"How many people get to say they were part of something larger than themselves? Isn't that was this is all about? Who cares if it's all off the table tomorrow, we can give it all we've got today!"

Episode 18: Prime of Invincibility!
With regionals fast approaching, Makoto decides to talk to Haru about something that has been on his mind.
Read more...
Affiliates
Want to become an affiliate of us? Request an affiliation!
Free! Wiki in Other Languages
Featured Image
Websites
Poll
Who is your favorite seiyū?
Poll Results
Last poll results are:


Why do you watch "Free!"? What is the main appealing factor?

1. Character development = 869 (76.43% of all votes)
2. Animation = 155 (13.63% of all votes)
3. The plot = 71 (6.24% of all votes)
4. Sports genre = 42 (3.69% of all votes)


Total votes: 1137



Events
March 4th
Free!-Dive to the Future- Official Fanbook Release
March 20th
Free!-Dive to the Future- Creator's Cross Talk Part 2 Release
March 20th - April 7th
Kyoto Animation Special Artwork Exhibition in Kagoshima
April 18th
Asahi Shiina's Birthday
April 28th
Toshiyuki Toyonaga's Birthday
July 5th
Free!-Dive to the Future- Recap Movie + New Episode Release