Free! Series ORCHESTRA CONCERT 2020
Product Information
Production
Kyoto Animation
Animation Do
Release Date
August 15, 2020

The Free! Series ORCHESTRA CONCERT 2020 (Free! シリーズ・オーケストラ・コンサート 2020 Free! Shiriizu・Ookesutora・Konsaato 2020) took place at the Pacifico Yokohama convention center on August 15, 2020.
Summary
The concert featured the Senzoku Gakuen Philharmonic Orchestra, performing the music of Tatsuya Kato, led by Conductor Gyouchi Yoshida. Takuro Iga was the featured pianist. Nobunaga Shimazaki, seiyuu for the series' protagonist, Haruka Nanase, acted as Master of Ceremonies.
At the concert, which had a small live audience due to the ongoing pandemic, a teaser trailer for Free!–the Final Stroke– was shown which revealed that the film will be released in 2021. The concert was simulcast for subscribers to the streaming service AnimeLab and Australian anime publisher, Madman Entertainment, with a recording of the event made available for viewing on AnimeLab with limited access. A separate recording of the concert was released by American licensee Funimation on November 28, 2020.
A follow-up mini event titled We are now! !! Special Exhibition was on display at the Sanyodo Bookstore Kamimaezu Store (Aichi Prefecture) between February 15 and March 14, 2021. It then moved to the Kinkaido Aeon Hayato Kokubun Store (Kagoshima Prefecture), operating between March 15 and April 7, 2021. The exhibition displayed select original drawings from previous Kyoto Animation & Do Fan Appreciation Events. In addition, Kyoto Animation & Do Shop! sold a limited edition of "live video" showing animators hand-drawing images on video paper to be used at the animation production site.
Program contents
A youth through the water
OPENING TALK
Taste the satisfaction
Words that changed my life
Brilliant swim
Dive to the future
Join us!
My future, your future
My best team
Only for your future
Take your marks
Eternal blue
SPECIAL GUEST & TALK CORNER
Rhythm of port town / Rhythm of new sensation
Departure for the future
Pure blue starting / Starting days
Lost game
My true self
Best swim, best team
Starting to the future
Rhythm of pure memories
Welcome party
Fall into deep place
Timeless medley -the Bond-
What you make it
Relate to you
Into the new world
Melody of ever blue
Never seen landscapes
Screen animation Ver. Special recording * Camera work and editing will be the same as the distribution version.
A youth through the water
Dive to the future
Join us!
My future, your future
My best team
Eternal blue
My true self
Best swim, best team
Starting to the future
Timeless medley -the Bond-
Into the new world
Melody of ever blue
Gallery
Video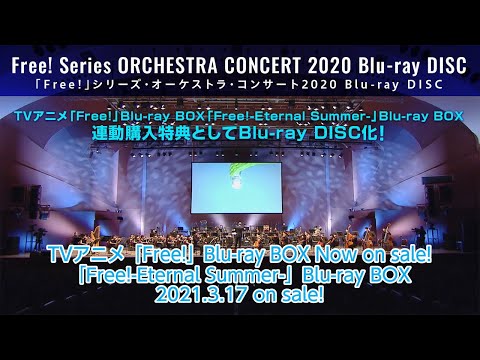 A 5-minute preview of the 2020 concert