Free!-Road to the World- the Dream
Product Information
Director
Eisaku Kawanami
Character Designer
Futoshi Nishiya
Production
Kyoto Animation


Animation DO

Release Date
July 5th, 2019
Running Time
99 min

Free!-Road to the World- the Dream (劇場版 Free!-Road to the World-夢 Gekijou-ban Free!-Road to the World- Yume), initially referred to as "Road to 2020," is a 2019 animated film produced by Kyoto Animation and Animation DO. The movie is a compilation/rebuild of the events of the Free! anime's third season, Free!-Dive to the Future-. It debuted in Japanese theaters on July 5th, 2019.
Synopsis
This latest compilation film regarding Haruka Nanase and his companions includes footage from Free!-Dive to the Future-, as well as new footage, in similar fashion to previous compilation films. The story focuses on the "dreams" of the main characters of the anime from childhood to the present, as well as those of the newest Iwatobi High School Swim Club members. Free!-Road to the World- the Dream represents yet another milestone for one of Kyoto Animation's most successful franchises and includes many of the characters fans have come to know and love.
Plot
Main article: Free!-Road to the World- the Dream/Plot
Characters
Main
Supporting
Production Staff
Original: 「High☆Speed!」 Kouji Ohji
Director: Eisaku Kawanami
Script, Series Composition: Masahiro Yokotani
Character Design・General Director: Futoshi Nishiya
Art Director: Shingo Kasai
3D Art: Joji Unoguchi
Color Design: Yūka Yoneda
Prop Design: Seiichi Akitake
Director of Photography: Kazuya Takao
3D Director: Yuji Shibata
Sound Director: Yota Tsuruoka
Music: Tatsuya Kato
Animation Production: Kyoto Animation/Animation DO
Distribution: SHOCHIKU
Production: Iwatobi Neighbourhood Committee 2019

Video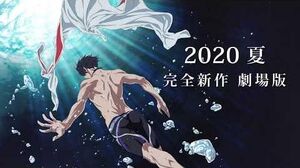 External Links
Trivia
The official title of the film, as well as the film's poster and first full length ad, were released on the 6th anniversary of the series (April 26th).
The film was originally scheduled to be released before the Kyoto Animation arson attack happened.