Free!–the Final Stroke–
Product Information
Character Designer
Futoshi Nishiya
Production
Kyoto Animation
ANIMATION DO
Release Date
September 17, 2021 (Zenpen)


April 22, 2022 (Kouhen)
Free!–the Final Stroke– (劇場版 Free!–the Final Stroke– Gekijou-ban Free!–the Final Stroke– lit. Free!–the Final Stroke– the Movie) is an upcoming pair of animated films produced by Kyoto Animation and ANIMATION DO. The first movie in the pair, Zenpen (前編 lit. first part), is scheduled for theatrical release on September 17, 2021. The second movie, Kouhen (後編 lit. latter part), is scheduled for theatrical release on April 22, 2022.
Overview
The movies appear to be a continuation of the events of the Free! anime's third season, Free!-Dive to the Future-. The original movie was scheduled for a mid-2020 release; however, due to a variety of impeding circumstances, the release dates have been changed.
The first movie's new release date, along with the first teaser trailer, was revealed at the end of the Free! Series ORCHESTRA CONCERT 2020. The movie titles, and the fact it will be released in two parts, were revealed as part of the livestream held for the Free! series' eighth anniversary on April 26, 2021.
Synopsis
"The third season is more about securing a future, so it seems like anime fans are in for Olympic swimming references with the new Free! movie. The only mystery is whether the new film will be a plot-setter for Season 4 or it will dive right into the meat of the plot. Similar to how the 2017 movie Free! Take Your Marks! lead up to the events of Free! Season 3: Dive To The Future, the 2021 film is likely to set up the circumstances for Free! Season 4."[1]

Note: A more specific synopsis will be forthcoming once details are known. Additionally, no season 4 for the series has been officially confirmed, so this is merely speculation from this particular review site.
Characters
Main
Production Staff
Studio: Kyoto Animation, Animation DO
Director: Eisaku Kawanami

Video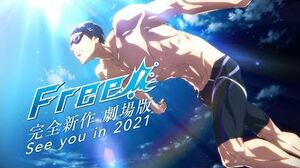 References
Community content is available under
CC-BY-SA
unless otherwise noted.